Olivia Rojas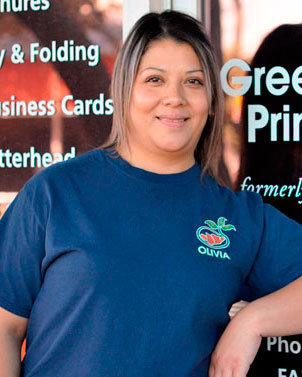 Production Specialist
Olivia is a Production Specialist that handles the all-important day-to-day production tasks in our shop. She loves being part of the GreenWorx team since 2014, because to her it feels like home! She also loves the opportunity it affords her to meet the many people that come in the shop constantly throughout the workday. She is quite often called upon to utilize her Spanish–English bilingual skills.
Olivia graduated from Corsicana High School in 2003, and then attended Training Academy where she graduated with her Certificate in Dental Assisting. She also works part time at First State Bank.
When she is not working, she enjoys spending time with her husband and her two daughters, Analy and Alyson, who consume most of her time. She is a PTO mom at her daughter's school and loves volunteering, but also treasures her time hanging out with family and friends. 
Olivia enjoys helping others, especially our customers, and loves to put a smile on every person she comes in contact with!