Paul Smith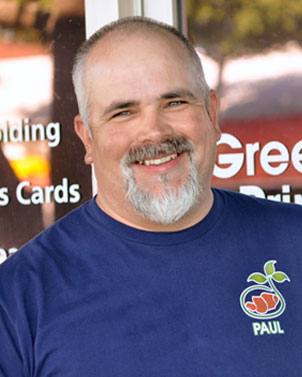 Marketing Director
Paul Smith, our Marketing Director, works the full spectrum of our client's projects from concept to implementation by drawing on a vast wealth of experience in all aspects of advertising, design and marketing. Paul has been with GreenWorx Printing for a short time, but prior to joining the team, he has worked as a graphic designer, and in marketing, for various companies and institutions for the past 20 years.
Paul graduated from American Intercontinental University with a Bachelor of Fine Arts degree in Visual Communication, and from Navarro College with an Associate of Applied Science degree in Commercial Art and Multimedia. In his spare time Paul enjoys the outdoors playing golf and fishing whenever possible. He is a true believer in paying it forward and loves contributing to someone else's smile. Paul also enjoys expressing his creativity through painting and illustration.
Paul loves contributing to the outcome of a project from start to finish, bringing his many years of experience and creativity to each aspect of the clients needs, and making sure that every "i" is crossed and "t" is dotted.