History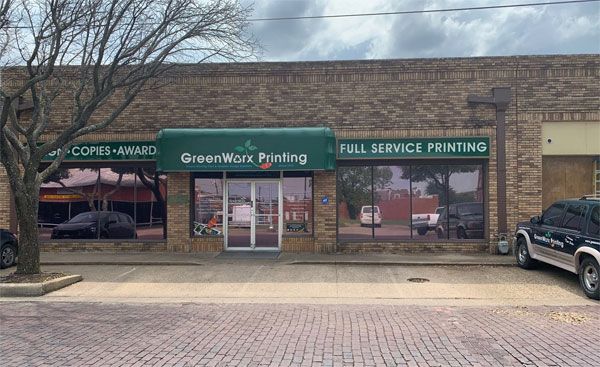 GreenWorx Printing History
GreenWorx Printing was established in 1975, under the name of Corsicana Graphics, Inc., by Joe David Holland. Four years later, it was purchased by John Ausley, a long-term veteran of the printing industry and former co-owner of PM Press. John relocated the business in 1984 from its original location at 119 W 6th Avenue, current home of the Warehouse Living Arts Center Theater & Gallery, to its current location at 316 North Main Street, both sites being within historic downtown Corsicana, Texas.
Corsicana is located about fifty-eight miles south of Dallas, Texas off Interstate Highway 45. Founded in 1848, Corsicana was named by José Antonio Navarro after the Mediterranean island of Corsica, the birthplace of his father. In 1894, Corsicana is where oil was first discovered west of the Mississippi, by accident, only blocks from Corsicana's business district, as drillers were completing an artisan well to expand the city's water supply. Within six years, 500 oil wells operating within the city limits were producing 800,000 barrels of crude annually, making Corsicana the site of the first commercial oil field in Texas. In 1898, the state's first oil refinery was built by a new local company called Magnolia Petroleum Company (known today as Mobil). Another local startup, The Texas Company (Texaco) began shortly thereafter.
After selling John Ausley Corsicana Graphics, Inc., Joe David Holland relocated back to his native city of Ennis, Texas. He started JDH Printing, which eventually became Ennis Office Supply. He maintained ownership in Ennis Office Supply until his untimely passing at the age of 56 on March 21, 2008.
Meanwhile, John Ausley brought his strong work ethic and extensive print industry experience to bear, and firmly established Corsicana Graphics, Inc. as a business devoted to quality and superior service, creating a much needed local resource to businesses in the Corsicana & Navarro County area. In order to transition to retirement, and secure employment for his staff, John sold the business to its current owners, Alexander "Sam" & Kimberly Yukon, on September 17, 1998. Sam & Kim had relocated to Texas from their native Boston area of Massachusetts shortly before purchasing the company. In a tribute to their heritage with a touch of whimsy, they formed Yankee Doodle Inc., a Corporation in good standing registered in the State of Texas, and began doing business as Corsicana Graphics.
On September 8th of 2003, the company acquired the assets of Stewart Trophy and Sign Company and added these services to our existing printing business.
The company name was refreshed to (Yankee Doodle Inc. dba) GreenWorx Printing on September 3, 2008 to reflect a more accurate image of the modernization of the business from traditional offset methodology to digital technologies implemented in a responsible earth-friendly manner of recycling, sustainability, and renewablity of resources.
John Ausley maintained a close relationship, both as a friend and business advisor, to Sam & Kim Yukon for many years. He was beloved by the staff at GreenWorx. John loved God, his wife, and family, above all else. He always helped those in need, from neighbors to stranded motorists on the highway. He had served in the U.S. Army Air Corps / U.S. Air Force and obtained the rank of Corporal. His love of flying motivated his years of service to the Coyote Squadron of the Commemorative Air Force (CAF), both during his work and retirement years, in Corsicana, and to his work on their annual AirSho. The CAF acquires and preserves in flying condition military airplanes used in the defense of our country, and provides museum buildings and units to house them. The goal is to perpetuate in the memory and in the hearts of all Americans the spirit in which these great planes were flown in the defense of our nation. The CAF has established an organization having the dedication, enthusiasm and esprit de corps necessary to operate, maintain and preserve these aircraft as symbols of our American military aviation heritage.
For almost twenty years, John would visit our shop monthly and work with us on creating a newsletter for the Coyote Squadron located at the Corsicana Municipal Airport, C. David Campbell Field. In order to thank him, and all the other great veterans of the military for their service, GreenWorx Printing fully donated all the materials and labor in their entirety for this monthly publication, a tradition that continues to this day.
John sadly passed away peacefully in his home on September 6, 2017 at the age of 89. He was active until the day of his passing, and is sorely missed by us everyday. His spirit continues to be an inspiration to all of us.
Over the history of our company, there have been numerous changes to our equipment and services. Currently, our primary services are visual communications and marketing through graphic design, printing, copying, bindery, awards, signs, and custom t-shirts & apparel. We look forward to working with you!