Heidi Ebbett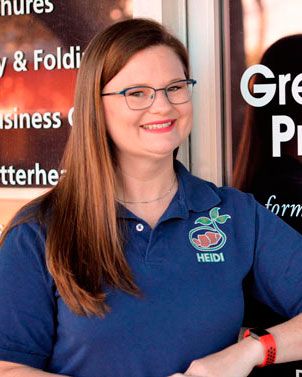 General Manager / Creative Director
Heidi Ebbett, General Manager/Creative Director, handles the day-to-day duties of scheduling, production flow, customer service, and employee happiness. Heidi joined the team in 2003 and has been a key member ever since. She continually monitors inventory levels for peak performance to meet customer needs, as well as coordinates the maintenance of all our production equipment.
She graduated Cum Laude from Navarro College with an Associate of Applied Science degree in Multi-Media Technology and Certifications in Multimedia Level Two. After graduating, she served for several years on the advisory board to the Multi-Media Technology Program of Navarro College.
Heidi is obsessed with obtaining the best quality products for our clients at the lowest possible price to give them the maximum value of their resources. She loves a good challenge, and to give our customers a personal touch to their orders. She loves being involved with each project from start to finish no matter the size of the order, from big to small, she does it all!
Heidi enjoys volunteering for her community. She has been a proud, active member of the Corsicana Rotary Club for several years, and currently serves on the Yellow Dot and Freedom Festival Committees. She is also a graduate of the Corsicana & Navarro County Chamber of Commerce Leadership Program, and was active on many committees through the years. She is a U.S. Army Junior Reserve Officer Training Corps ("JROTC") mom and loves volunteering her time for the cadets. She currently has one child in JROTC, with another joining next year.
In her spare time, Heidi enjoys spending time with her 5 children and husband. She also enjoys working out with Camp Gladiator, and is a self-professed "Foodie". Heidi loves to put a smile on every person she comes into contact with, and believes through Christ, anything is possible.
"Peace, Love and Bacon"