Raven Self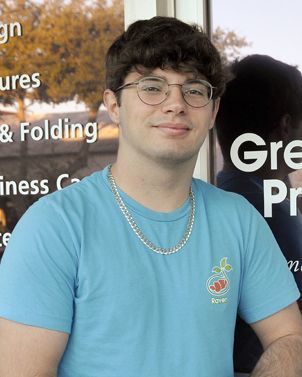 Garment Printing Specialist
Raven Self is the Garment Printing Specialist at GreenWorx Printing. He joined the team in October 2021, a few months after graduating from Corsicana High School.
Raven was born and raised in Corsicana, living in the same neighborhood his entire childhood, but wants to travel and explore different places of the world. No matter how far he roams, Corsicana will always be "home" to him. He loves to meet new people and learn about their way of living, and their various customs and beliefs.
Throughout high school, he tried many different hobbies and activities such as tennis, chess, choir, music theory, art, theater, and more. He creates lots of art mainly with the medium of pencil and paper, but loves to make music and study it as well.
Aside from art, Raven is an athlete and enjoys working out and playing multiple sports such as tennis, boxing, and bowling. Raven brings this driven nature to his work, and is always on the hunt to learn something new.
Raven's hope is to attend college in the future, and is interested in pursuing a science-based degree. His intention is to study astronomy, astrophysics, and other areas of study to delve into those things beyond our conceivable universe. He enjoys reading about scientific theories and trying to teach himself how the universe works. He wants to play tennis at the collegiate level to balance is academic studies.
Although Raven is the youngest member of the GreenWorx Team, he has experienced a lot, and tries to learn from everything that has happened in his life. He tries his best to do right, and stay loyal to those he loves. Raven has a strong moral compass tempered with a soft heart. He always does his best to make sure that there is a smile on the faces of those around him. He's very talkative and loves to guide a conversation, but is always curious and loves hearing about others as well. His curiosity is balanced with a desire to do well. He is passionate about the people that surround him, and wishes good things for all individuals he encounters.
Raven is grateful for the opportunity to be part of the GreenWorx family. He loves the environment and the way the workplace feels like home with the bond a family would have with each other. He plans on staying with GreenWorx for a long time, and learning more and more from his teammates.